New figures have revealed Queensland has the worst rates of ambulance ramping in Australia, and Brisbane patients are suffering as a result.

New data obtained by the LNP Opposition shows ramping rates have risen at eight of the city's nine hospitals, with five hospitals above 50 per cent.
At Ipswich Hospital 56 per cent of patients are being are being left on stretchers, corridors and hallways for longer than 30 minutes.
This is a 6 per cent increase and well above the statewide average of 38 per cent.
Logan, QEII and Redland Hospital all recorded increased ramping rates above 50 per cent.
This means one in every two patients is waiting too long for care.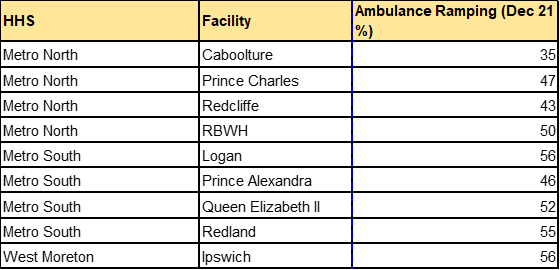 Leader of the Opposition David Crisafulli said the State Government urgently needed to find a plan to fix Queensland's hospitals.

"These new figures are deeply concerning," Mr Crisafulli said.

"Queenslanders have seen the images of ambos and police queued up at hospitals and heard the stories from patients being forced to wait hours for care.

"Now we know the problem isn't getting better and the State Government has no coherent plan to fix it.

"We've repeatedly put our solutions on the table, including real-time data monitoring, better resources for triaging, more beds and more funding on the front line.

"Lives are on the line here.

"The State Government must start listening to Queenslanders and take some real action."

Shadow Minister for Health Ros Bates said Queensland's hardworking health staff need more support.

"As a registered nurse and former hospital administrator, I know how stressful it can be for our frontline staff," Ms Bates said.

"These dedicated Queenslanders are doing all they can to hold together a system in crisis.

"Not only does the Palaszczuk Labor Government have no coherent plan to fix ambulance ramping, these new numbers show the problem is growing.

"The Health Minister must start taking real action now.

"The Palaszczuk Labor Government must start listening or more Queenslanders are going to die waiting for an ambulance.

"That is the sad reality they are ignoring."